Welcome to our Midlife Retreat!
This retreat is a break from the mundane that will reconnect us to the simple pleasures and the big picture, simultaneously.

It will take us on a journey that explores new culture, ancient ruins, countryside collaborations, lazy riverside refreshment and beach-side zen. This adventure across the world is designed to bring us closer to ourselves, to see life from upside down, to share of ourselves and to refill our cup.

In today's day and age, its ""normal" to find ourselves on autopilot or getting disillusioned by dissatisfaction in the material world. Some of us have gotten caught up in the day to day that we forget the preciousness of each moment and of our own glorious selves.

This retreat is designed to reawaken the wonder of our inner child, as we explore new lands, foreign faces and other-worldly experiences. Its an adventure that challenges us ever so gently to reconnect to the awe of being alive. If you let it, you will return to your life with new appreciation for yourself and all the little things. You will check off some bucket list experiences and you will meet new community from all over the world.
2023/24 Dates:
December 22-2
January 20-31 (co-ed)
February 26-March 9  (Co-ed) 
March 18-29
May 1-11
 (December, March & May Women Only)
( See Women's Retreat page)
–
All Inclusive $2,555
Custom Trips Available for 6+
-Three healthy meals per day
-All transportation during the Retreat
-All Gorgeous Accommodation 
-All Activities 
–
Exploring Ancient Temples
Yoga, Meditation, Wellness Activities, Holistic massage
Ethical Elephant Sanctuary 
Volunteering in Free Education and Sustainable Development
Bustling City Markets & Cultural Historical Sites
Rooftop City Pools and Fine Dining in the City
Riverfront Relaxation and Paddle Boarding
Jungle Waterfalls and Sacred Pagodas 
Blessings from Monks
Khmer Cooking Class
Crafting with Red Road Students
Customized Opportunities to share skills, passions and workshops at Red Road Foundation
Luxury Stay in Kep Beach town
eat at famous crab Market
Internal flight from Siem Reap to the Capital
Make it a 15 Day Trip
Additional Three Days Itinerary:
Stay in a private bungalow on the river accessible only by boat. Arrive at the eco-resort that backs up to a beautiful jungle and faces the river with its own private dock. Stay with an incredible local family and eat organic fresh delicious meals. Swim, hike through the jungle, swim in massive waterfalls, boat ride back, kayak, paddleboard, float on the river and just enjoy yourself. Read on your patio with the sounds of the jungle, journal, and let your mind fully integrate all you have learned during this experience.
Or
Three days at an oasis in Phnom Penh to lounge by the pool, eat incredible food, shop and relax in luxury.
Contact: Rachel Riggio
Operations Director,
Founder & Guide
TheRedRoadFoundation@gmail.com

#855 017 449 488
WhatsApp, Telegram & local Cambodia
"I was lucky enough to join a trip to a Cambodia with Rachel and Maya.
I can 100% recommend that if you are considering it, you should do it!
Rachel is so positive, knowledgable,speaks the local language which was a huge benefit, she's kind and nothing short of inspiring. Nothing is too much trouble for her to organise on the trip. She's open to ideas and just wants everyone to get the most out of the experience. If there were more Rachel's in the world, it would most definitely be a happier place!
Maya too is incredible! Is there nothing that she can't do?! She speaks multiple languages, she is experienced and totally trustworthy. When you have a treatment with her, you feel absolutely safe in her hands. She is wise,careful, respectful and empathetic and the best yoga teacher!
Thankyou Maya and Rachel for a truely inspiring, thought provoking and memorable trip! We are forever connected!"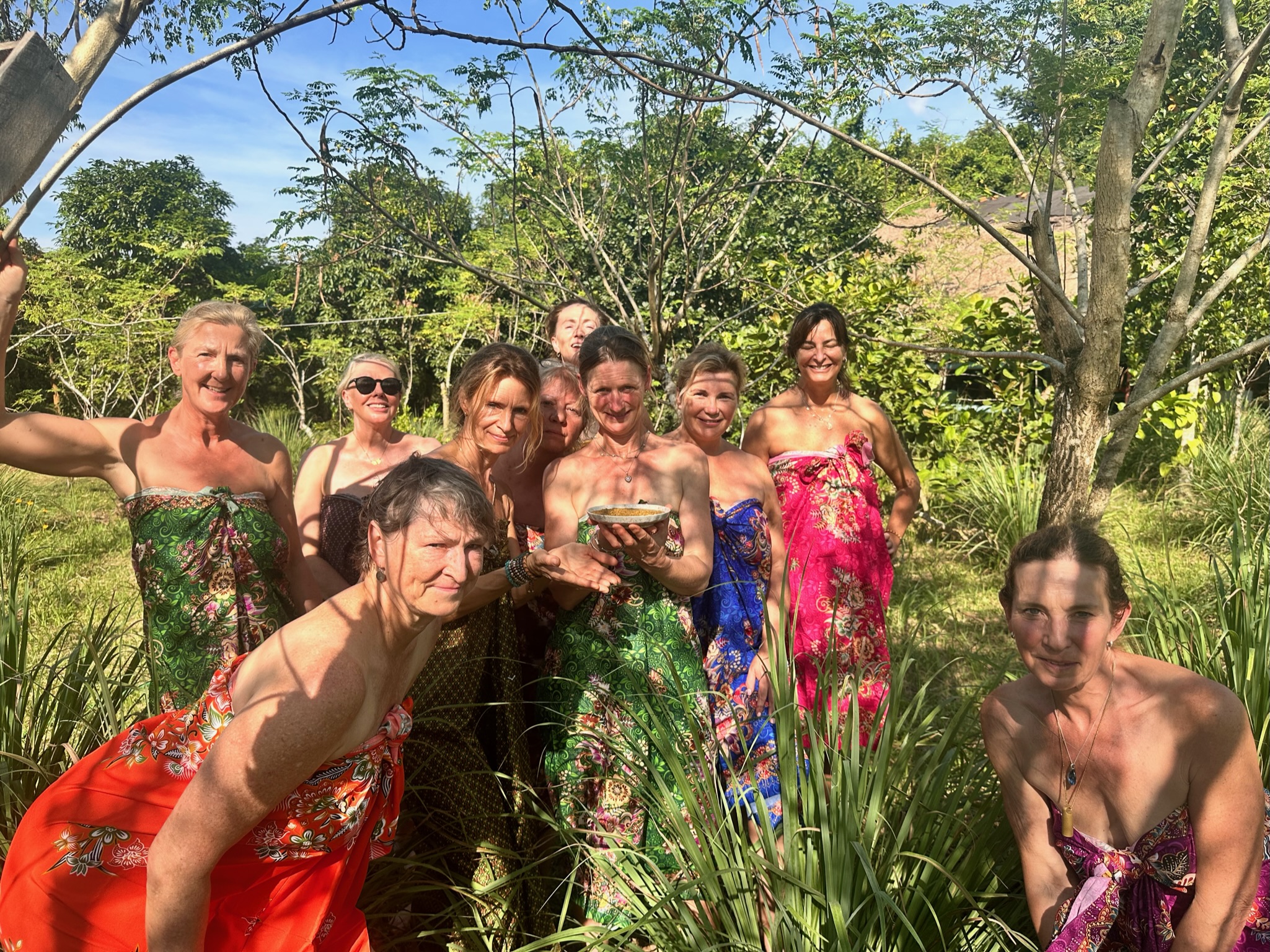 "Having just returned from a trip through Cambodia with a group of women I can truly say that it was a journey in more than just the physical sense. Lead by the extraordinary Rachel Riggio, the journey took us through various social enterprises supporting local children and communities including the Red Road Foundation which Rachel has established. We were supported on our physical journey by the amazing Maya with yoga and healing, who took us on an emotional, mental journey. We laughed, we cried, we shared, we ate and we had the most wonderful experience whilst traversing this beautiful country.
"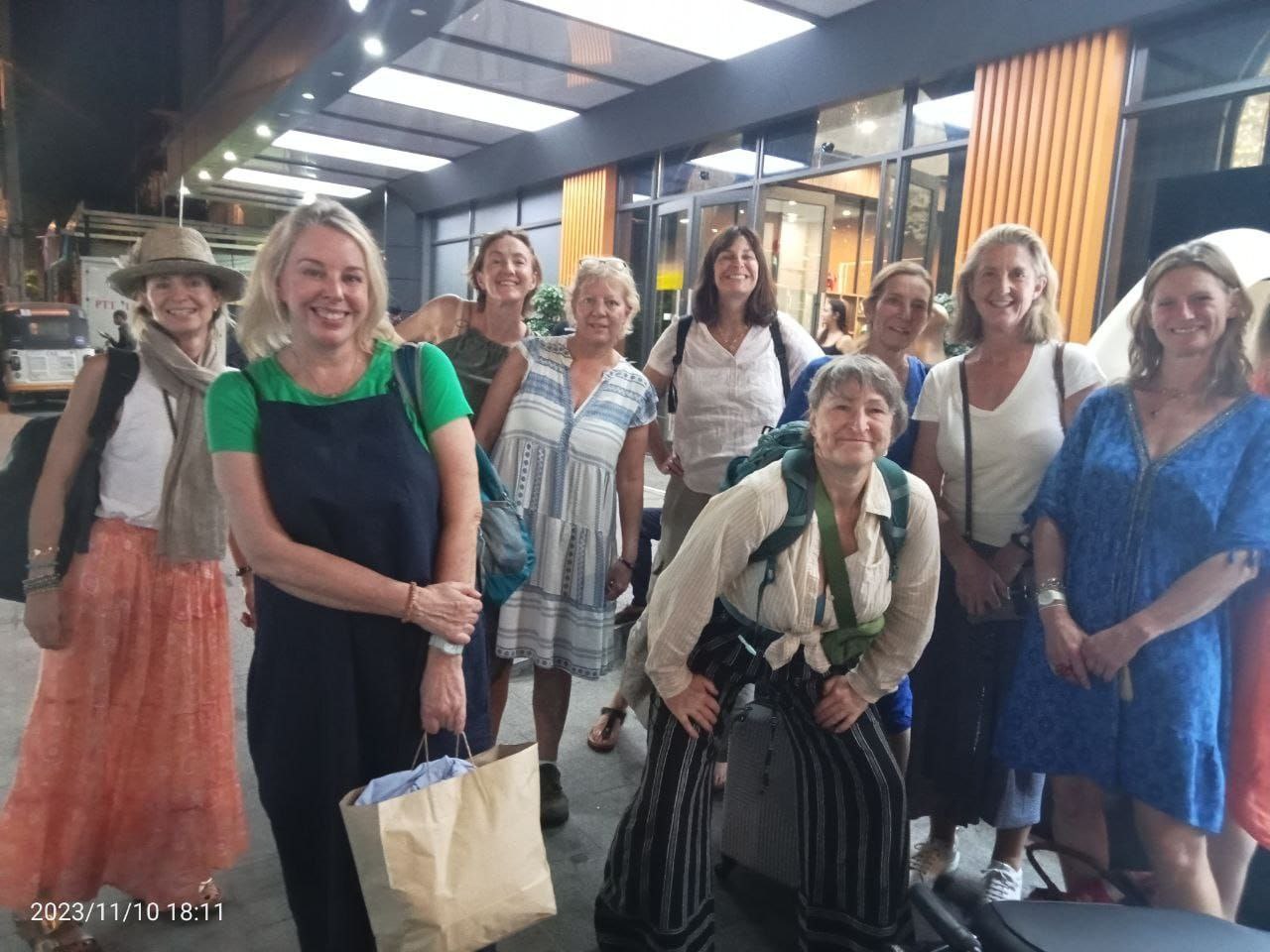 This retreat with Rachel and Maya provided the beautiful & safe space in which I needed to be emotionally, after a relationship breakdown.  It was time to 'put back'.  It was a reboot.  I found I was amongst like-minded women, where we could be our authentic selves.  We shared, we laughed, we cried.  We ate, we explored, we yoga'd, we meditated, we beautified, we tuk tuk'd, we shopped….  I experienced a plethora of emotions amidst a whole spectrum of experiences from walking with elephants, sunrise at Angkor Wat, the horrible reality of the Killing Fields, and heartening stories of those who've turned their lives around and those who've turned around the lives of others.  A great leveller and very bonding – I definitely found my tribe!   Rachel's enthusiasm & cheerfulness are infectious and her work with the Red Road Foundation is inspirational, along with her joy & love of others.  Everything and everyone is Beautiful.  Whilst Maya is rooted and knowing, and guided us through physical and emotional places with yoga practice (like no other!) and shamanic work…. I don't want to let her go!  I want to 'sham away' (need the t-shirt)!  I have emerged feeling nourished, an enhanced woman.  I thank you."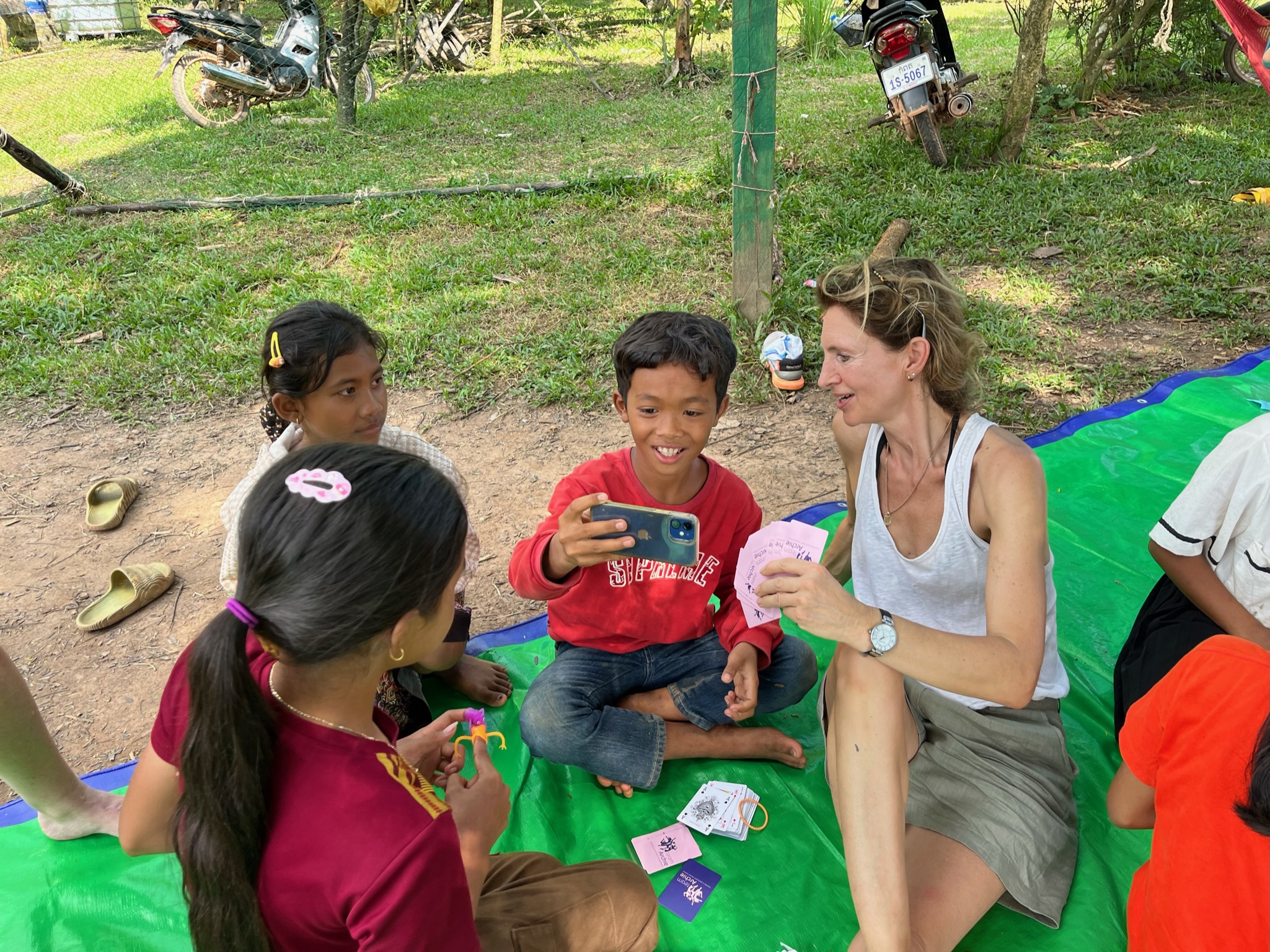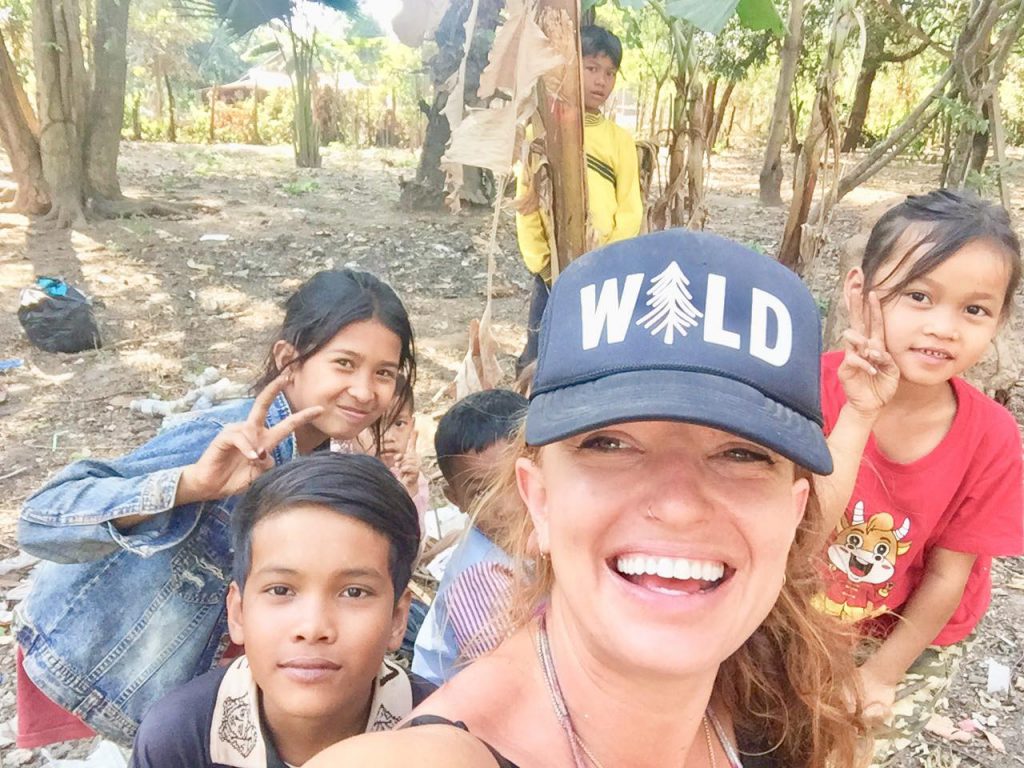 Red Road Founder, Director of Operations & Guide
I am an entrepreneur of social enterprises, the founder of a self-sustaining free education center, author of two books on spiritual principles, addiction's counselor for over ten years, life coach, environmental leadership teacher and an inspired life student that remains in gratitude and awe. I have been running therapeutic groups for fifteen years and am so grateful for the opportunity to lead people on a journey through distant lands that ultimately brings us closer to ourselves, each other and our environment. I am passionate about unity, community, fulfillment. peace and adventure.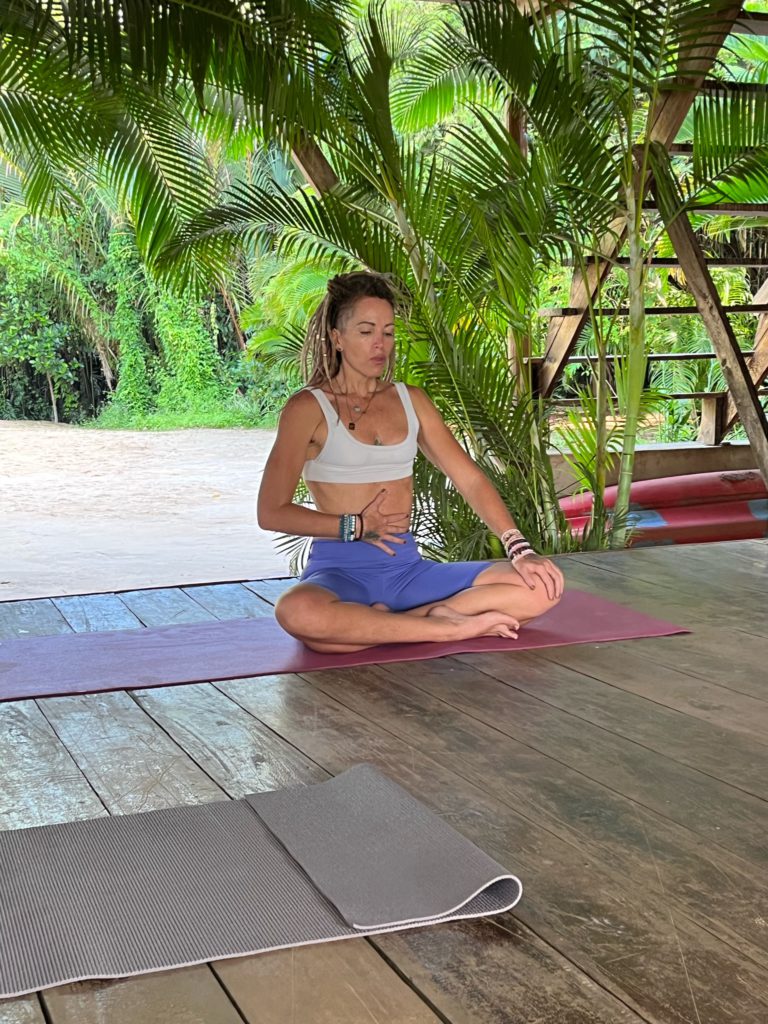 Yoga Master, Shaman & Spiritual Mentor
Holistic Life Coach, Personal Trainer,
Public Speaking Teacher, Holistic Nutritionist, Minister
Creator of the

Spiral of the Sixth Sun
It is my belief that you did not come here to try to fit in and play small. I am here to inspire you to step up into the unique and powerful woman that you came here to be. With over two decades of international experience working within the fields of Yoga, Shamanism, and Energy Work, I specialize in creating safe spaces for women like you because when we feel safe, we are able to remove our masks, and be ourselves, and that is how we heal. And when we are whole, happy, and healthy, we become the catalysts for change this world needs now, more than ever.
I am here to re-mind you have everything you need within. I will guide you on an yog-adventure, finding strength, serenity, and the sacred in movement, breath, and mind, reconnecting you to the truth of what you are: that all your pieces are part of the big PEACE that is your sacred birth-right.
My spiritual journey began with the Noaidi Shamans of the Sami, as a young girl, and my nomadic Tiger spirit has guided me to be taught by and work with many incredible Shamans, Yogis, Tantrics, Healers, Gurus and Energy workers. I found Yoga in India as a teenager and spent two years privately tutored by Master Teacher Gulnaz Dashti. In 2009 I completed a Master's Degree in Yoga Science, and have over 700hrs of Yoga Teacher Training. I have dedicated my life to learning more tools, methods, and ways of working with Energy, Spirit, and the Feminine Mysteries and I am so looking forward to sharing the best of what I have received with you. I look forward to taking this journey together.
"Empowering the next generation for a sustainable future. Arrive as a friend, leave as family."
– Ellie Brister 23 Nathan Billingham 25 (3rd year volunteer)
Spots are limited, and this is a once in a lifetime trip. It´s time to change your life, forever