My name is Rachel Riggio and I am so grateful for what I have attracted into my life. I currently get to write about making the world a better place and spread awareness on topics that promotes a collective rise to thrive movement.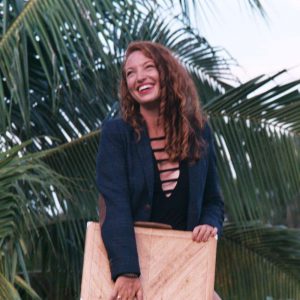 All of a sudden, I have one book out, one about to be released and two more on the way! I'm writing about topics like inner peace, where science meets spirituality, the Law of Attraction for children and how honoring the Divine Feminine will change the world! I'm so grateful that I get to fill myself up with such amazing knowledge through the research that goes into writing. Also, to share about the struggles and successes of my spiritual journey.
I remember a time in my life when I was suffering so much and I remember thinking I don't want all of this suffering to be in vain. I want to use the suffering to help other people who are suffering, to find peace. It was a big motivator for me to work through my misery and dissatisfaction. Healing and personal development have been some things that I've always been passionate about.
I worked for six years as a counselor before becoming the founder and operational director of our free education project in rural Cambodia. Being of service has always felt very natural to me. From a young age, it's simply been what I wanted to do. I just wanted to find peace through the turmoil and heal the people around me. It makes me feel good to make the world better and I know that as I take care of life around me, the Universe takes care of me.
It's the Law of Attraction, what you put out is what comes back to you. I don't have to worry because my needs are always met. Even when things look scarce and I feel fear slipping in, I take a deep breath and I tell myself "Hold the vision, trust the process. My needs are always met. I am meant to thrive". And.. my needs ARE always met and opportunities always come at the perfect time.
I just feel grateful and I want to inspire and encourage as many people as possible to be their own guide and discipline themselves to walk the fulfilling path of inner peace and abundance that is at our fingertips.
I've been ghostwriting on these topics for years now and I recently met this amazing publisher through an Upwork job. I had previously been manifesting a stable long-term job doing something that I cared about, as working freelance doesn't provide much financial security. After a couple of weeks of holding this vision in my mind, things just aligned with this awesome man who had just started a publishing company halfway across the world! He believed in me and I believed in him. Things just aligned simply for us and the path was clear. We decided we could work together to put some good information out into the world that could promote a collective rise in consciousness.  So, now we're here! I have a Facebook page, Facebook group, a website, and a blog all to support these amazing messages- that I feel honored to be able to share. 
Materialism and greed have really skewed priorities in most societies all over the world. Many important fundamental truths of life and laws of existence are just not taught in school. There are so many incredible things that I've learned about in my research and I wonder why it isn't taught to children from a young age. If we were all aware of the spiritual and universal laws, we could thrive. Everything we need to thrive is already on this earth! 
So now, I'm just excited to build a community of people who are willing to do the personal work to find satisfaction, fulfillment and contentment in their lives. As individuals rise in consciousness, we will raise the vibration and quality of thinking of those around us. Collectively we can rise to thrive. 
Another amazing part of this new chapter of life, is that it supports my baby! The Red Road Foundation, my blood, sweat and tears; my pride and joy… A percentage of all proceeds that we make will be donated to TRRF. I founded The Red Road with my brother and it provides free education, recycles/ monetizes waste; as well as, brings people together from all over the world to share their gifts to find true fulfillment and confidence!
This just all really makes me happy. I'm so grateful that you read this and you are interested in being a part of this community. I believe in a beautiful future for humanity and I believe it starts with us holding ourselves accountable and living our own lives in a way that brightens the world around us. So, let's be good to ourselves, each other, our environment and let's try to spend as much time as we can in a state of gratitude. I wish you all abundance and I'm so grateful to be on this journey with you!